Introducing In Your Hands: A Letter Receiving Project
Since love is not scarce, our ancestors bathe us in it every moment that we dare to receive.
I have learned that there are sources of nurturing that are older than us and swifter than our bodies. I am noticing that those who are no longer here in physical form are teachers in the wind, showing us how we must relate to each other, if we want to survive longer than our bodies and longer than a system that denies us.
I have been writing urgent letters to my ancestors since before I knew they were watching and on the cusp of this new year they whispered a suggestion to me. "How about for this new year, as a gift to yourself, you receive some letters from us, the spirits of women that love you from eternity?"
As ever, my answer was yes. These daily letters from the most beloved of my known and chosen ancestors on behalf of all of the ancestors who have sent us love with their lives and dreams without us knowing came at exactly the right time. When I was afraid to trust myself, I was not afriad to trust their guidance for me. I re-learned a shifting methodology of loving myself firstly as their vessel and secondly as their recipient
Here is a letter I received from Pat Parker: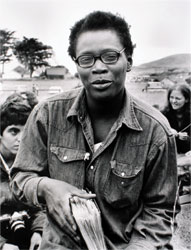 Alexis, girl,
There is nothing like being at home, huh? In your skin, with your work, in the universe, with us. Nothing like it. You have this question of finding, needing your own space while valuing radical socialization. You need other people somehow. But sometimes you really need your solitude (so you can socialize with us!) You and your older women!
Ask yourself how much stability and routine you need. Where are your boundaries? Where are your shared spaces? Where is your "room of ones' own"? Are those many rooms? What is your practice? As you know, your own clarity and diligence around these things will free you from resenting the other people you invite into your life. Being your word also means being honest about what you need. As you are learning, your very body depends on it. But your body is not the only thing worth saving.
There are these children, and your relationships to them is crucial. It's also a relationship to yourself. Your work to move towards intimacy is ultimately on their behalf. And ironically your boundaries (and waking up early) are what will allow you to be intimate and generous with yourself. Think about Maura. This intentional self-care and intimacy is a queer practice that allow intimacy that is not "self-sacrifice." And we have yet to fully achieve it. And we are watching you.
Love and then some,
Pat
And my ancestors are socialist, so of course they would ask me to share these intimate insights and gifts with you. Of course they would want me to bring their messages to your waiting ears, but more than that I want to share this practice and encourage that you engage it for yourself.
I don't know what ancestors speak to you or why and when they do, but I have been asked to ask you to listen, lovingly for what the universe wants you to know.
Can you join me? Think of the people who have influenced you, while they were living or through their written, or retold legacies. Just think about them and let your mind relax, let their energy surround and fill you. Create quiet times in your days in case they have something to say.
I encourage you to add your insights here on the "your letters" page if your feel that what you have received could provide healing and wisdom for the rest of us. I encourage you keep your writings for yourself if you feel that they should remain private. The messages of our living dead are sacred. They transcend the norms of intellectual property, and they should be treasured by your best impulse.
My intention here is to share with you an abiding sustaining faith in presence of those who have gone before and their participation in our everyday.
I invite your observance or participation with love.
Always,
alexis